The Home page of
Bishop Moore College, Mavelikara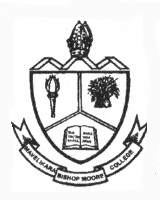 General Information

The Bishop Moore College ,Mavelikara ,in the Alappuzha District of Kerala State was founded by the Madhya Kerala Diocese of the Church of South India,in 1964 as a junior College providing facilities for the two year Pre-Degree Course of the University of Kerala.The College was upgraded and raised to the degree status in June 1967 with B.A and B.Sc courses. Post Graduate Course in Physics was started in 1982 and in Chemistry in 1995. B.Com course was started in 1993. The College is owned and managed by the C.S.I Madhya Kerala Diocese which is the successor to the Church Missionary Society which made significant contributions to the cause of education in this part of the country.

The College ,dedicated to the task of training young men and women for their roles in different spheres is named in honour of the late Rt.Rev.Edward Alfred Livingstone Moore,the fourth Anglican Bishop of the Diocese of Travancore -Cochin.Bishop Moore was a saintly,devout scholarly father in God whose memory and noble example will help to foster the aim of the College.The motto of the College is "The Truth Shall Make You Free". God is the Truth and only true knowledge of God as the truth as revealed through Jesus Christ can make us free.The College in a humble way is trying to lead the students to the truth which will make them free to face life with a sense of purpose.

Students are admitted without any discrimination on the basis of relegion.The rights of conscience are respected.Special consideration is given to educationally backward section in the matter of admissions. It is the ardent desire of the founders that the student in its precincts and the others leaving the portals of the College should be patriotic and should develop a genuine sense of sevice and sacrifice for the Motherland ,INDIA.

Principal's Address

The College MOTTO

"THE TRUTH SHALL MAKE YOU FREE"


Collaborative Programmes:


Course in Health and Hospital Management



E-mail: bmc@md3.vsnl.net.in

Postal Address :

BISHOP MOORE COLLEGE
MAVELIKARA
PIN 690110
KERALA INDIA

Phone Numbers :

College Office :0479 -303260
Principal(Office):0479 -303230
Principal(Residence):0479 - 304355

Administrative Officers

MANAGER
The Rt.Rev.Dr.Sam.Mathew
PRINCIPAL
Prof.Mammen Varkki V.
VICE-PRINCIPAL
Prof.Rajan Varghese Mathew
BURSAR
Prof.K.Kurian


This page is Created by Arun Varghese and Binil Kurian
It is maintained by : Mr. George Kurian


Check out the BMCM Alumni Entries at Alumninet
BMC Entries!